Difficulty: Challenging
Length: 24 Miles (38km)
Elevation Gain: 4,500ft (1370m)
This is a demanding loop with six significant climbs followed by six brilliant descents. There is a mix of every trail here from the fast flowing open grass descents of Win Hill to very technical boulder fields of Cavedale. Make sure you have your climbing legs as this route climbs almost 4,500ft (1,370m) over 24 miles (38km).
Route Profile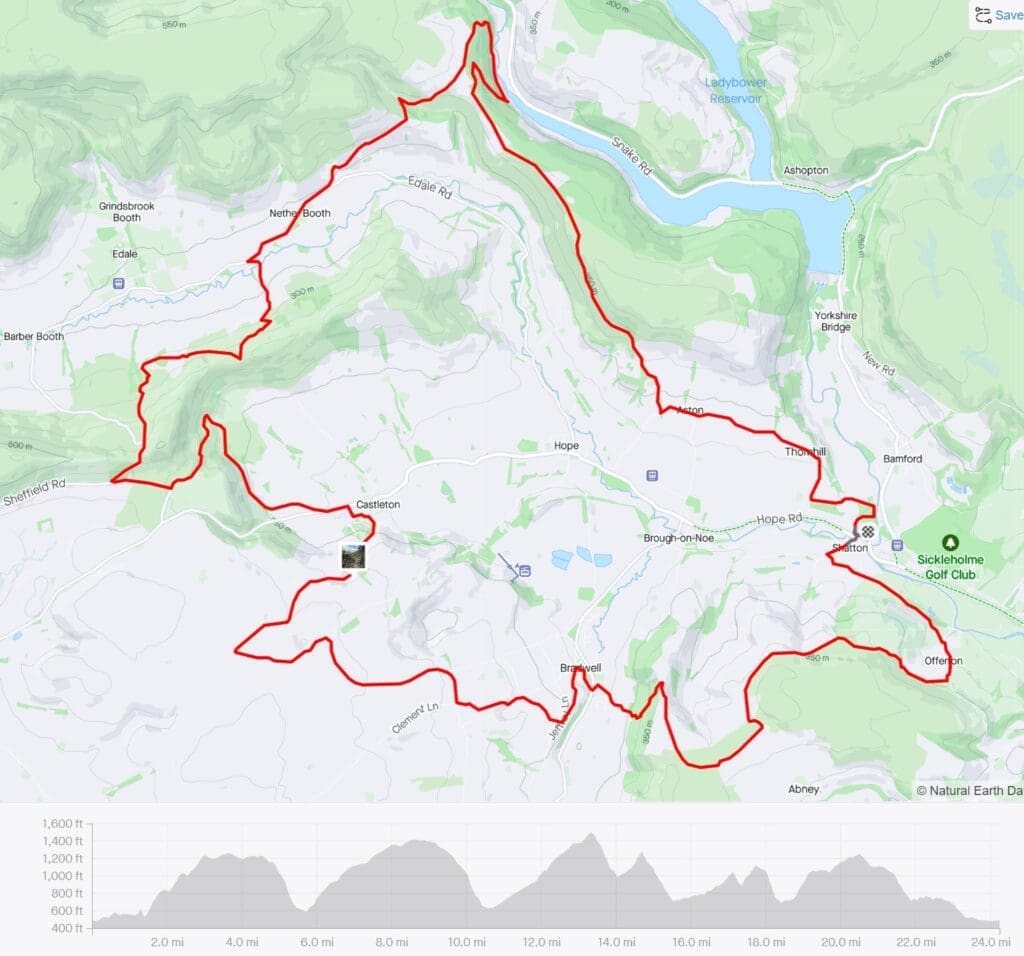 Route Summary
Starting at the Bike Garage cross over the road to Shatton Lane.  Follow this quiet lane before taking the first left. Follow this lane for 0.3 miles until you get to a gate, through this gate is a bridleway through a field that has a short steep climb followed by a quick descent before getting to the next road. From here follow this road up to the next bridleway on your right, this bridleway takes you up towards the start of the first climb of the day up to Shatton Mast.
Once through this gate you follow the bridleway for just under one mile through the open moorland before joining the top of Shatton Lane where it becomes a wide gravel trail. Continue following this lane past the mast, through a few gates then around to the top of the Bradwell descent.
The Bradwell descent is a brilliant little singletrack, it is just shy of half a mile (0.8km) descending roughly 350ft (106m). It can be a little slippery if there has been some rain down and keep an eye out for other trail users. After dropping down to Bradwell it is time to climb back up to the top of cavedale. This is the second climb of the day, it is a long one at 3 miles (5km) and climbing 810ft (245m) so settle in and get ready for the upcoming Cavedale descent.
Cavedale is a very popular descent with all trail users. It starts out at a gentle gradient through open fields before dropping into a very tough, technical boulder field. Lasting approximately 1.3 miles (2km) and descending 675ft (205m) you will come across a wide range of trail surfaces that will test your technical skills and brakes! If you are descending Cavedale on the weekend  you should anticipate other users to be on the trail, it is a very popular one for walkers. Once you have reached the bottom of the descent you will find yourself in Castleton where you will work your way towards the Old Mam Tor road, also known as the broken road. This is a 0.6 mile (1km) section of abandoned road due to historical landslides giving it a very post-apocalyptic feel. This climb will take you up towards the next descend of the day, Greenhills.
By now you are 13 miles (21km) into the ride – over halfway! The next descent is a Peak District classic, Greenlands. This is a brilliant 0.5-mile (0.8km) descent down the grassy slopes of Mam Tor. It is a mix of wide sections and deep rutted lines so be sure to keep an eye on your line! After reaching the end of this descent it is back up the great ridgeline to Hollins Cross, a 0.6 mile (1km) climb covering more rutted sections and some natural steps towards the top – Kudos if you are able to clean it. Once at Hollins Cross it is a turn to the left, dropping down to Back Tor farm. This is a similar descent to Greenhills dropping 450ft (137m) over 0.6 miles (1km) to the Edale road where you take a right and follow the road for 0.8 miles (1.3km) before taking a left through a date to start climbing the bridleway towards Jaggers Clough.
The climb up from Jaggers Clough to Hope Cross is a steep one, ideal if you have hired an e-bike, it is popular in both directions so once again, keep an eye on other trail users. Once at Hope Cross continue straight to The Beast. This is another Peak District classic, it is 0.3 miles (0.5km) starting with a rocky descent into the woods before becoming much more boulder covered twisting down the hill side. Keep an eye out for the gate on the right at the second major left bend, you are going through here onto the fire track that runs along the south side of the Derwent reservoir. Follow this fire track for 0.4 miles (0.6km) and turn right after the gate to start climbing up Elmin Pits, this climb takes you back up just south east of Hope Cross putting you on for the final descent of the day.
Turn left at the top of Elmin Pits and follow the top of the ridge towards Win Hill for 1.1 miles (1.7km), keeping an eye out for the bridleway dropping to the right you take this down to Aston. This is the last descent of the route and is a fast flowy way to finish the day. You descend for roughly one mile (1.6km) dropping 365ft (111m) providing a really good finish to this ride with brilliant views over the Peak District. Once you hit the road at the bottom turn left and follow it through to Thornhill, when you see the red phone box turn right, drop down the hill and turn left onto Water Lane. From here follow the lane for 0.4 miles (0.6km), turn right onto the Bamford Recreational Ground and follow the trail back to the Bike Garage.
With this you are done, you will have covered 24 miles and roughly 4,500ft of climbing through six brilliant descents.
Want to explore this route?  Book your bikes online now!